HVAC TAPES
Heating, ventilation, and air-conditioning systems have unique requirements for Pressure- Sensitive adhesive tapes. Tuftape series of HVAC tapes deliver high performance to contractors and industry professionals ensuring the strictest adherence to codes and quality.
FOIL SCRIM KRAFT TAPE
Tuftape (TM) FSK Tape is a Foil-Scrim-Kraft tape designed for providing a strong and impermeable seal on insulation joints and seams against moisture and vapor on 3-way scrim FSK jacketing and fiberglass duct boards. The tape is tri-directionally reinforced with fiber glass scrim to provide added strength to the aluminum foil. The tape is coated with an aggressive rubber adhesive with a release and is highly cold weather resistant. The tape is highly conformable on irregular surfaces.
ALUMINIUM FOIL TAPE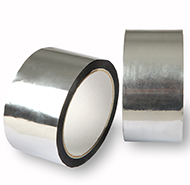 Tuftape Aluminium Foil Tape is a super performance, professional grade foil tape using dead soft aluminum foil with an aggressive solvent acrylic adhesive. Foil tapes are used mostly in the HVAC (Heat, Ventilation, & Air-Conditioning) industry to seal of vapor in ducting systems, or for thermal conductivity, moisture and chemical resistance, and heat and light reflectance. The tape is used ideally for sealing joints, seams against moisture and vapor on foil jacketing insulation. The tape is suitable for many other permanent sealing, holding, splicing or masking applications requiring the protection offered by a foil backing.
DUCT TAPE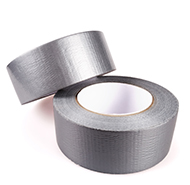 Duct tapes are used in the HVAC (Heat, Ventilation, & Air-Conditioning), plumbing, and general contracting space where heavy bundling, wrapping, and air-sealing, are required. The tapes are also used on metal sheets for sealing and to seal air gaps, such as as in air-conditioning systems.
The tape is made of three different layers each with distinctive properties. The top layer is a polyethyline film that prevents the accumulation of moisture from seeping in. The middle layer is made of a mesh cloth that is easily torn, but also provides high tensile strength. The bottom layer is the adhesive which is natural rubber and super tacky to provide an instant aggressive seal on both regular, and irregular, surfaces.